This Thermomix Hollandaise sauce is perfect for breakfast, whether you want to pour it over poached eggs or drizzle it over a plate of deliciously roasted vegetables. With its creamy texture and tangy flavor, this sauce will take your breakfast dishes to a whole new level of deliciousness.
This Thermomix Hollandaise sauce is the ultimate game-changer in culinary delights. Gone are the days of curdling or separation, as this recipe guarantees a silky smooth and velvety texture every time. Harnessing the power of your Thermomix, you'll effortlessly create a rich, buttery, and tangy sauce that will take your dishes to new heights of deliciousness. Prepare to be amazed by the simplicity and perfection of this Thermomix Hollandaise sauce recipe. Let's get started on this culinary adventure!
For some breakfast deliciousness, try our Thermomix pancakes, Thermomix blueberry muffins, or Thermomix crepes.
Jump to:
Why you will love this recipe
Effortless perfection: With the Thermomix, achieving a flawless Hollandaise sauce becomes a breeze. Say goodbye to the anxiety of curdling or separating the sauce, the Thermomix ensures consistent, silky-smooth results every time.
Creamy indulgence: This Hollandaise sauce offers a luxurious, creamy texture that will tantalize your taste buds. It adds a velvety richness to dishes, making them truly irresistible.
Versatile breakfast: Whether you're pouring it over perfectly poached eggs or drizzling it on a plate of roasted vegetables, this sauce is an ideal accompaniment for breakfast, creating a delightful morning meal.
Ingredients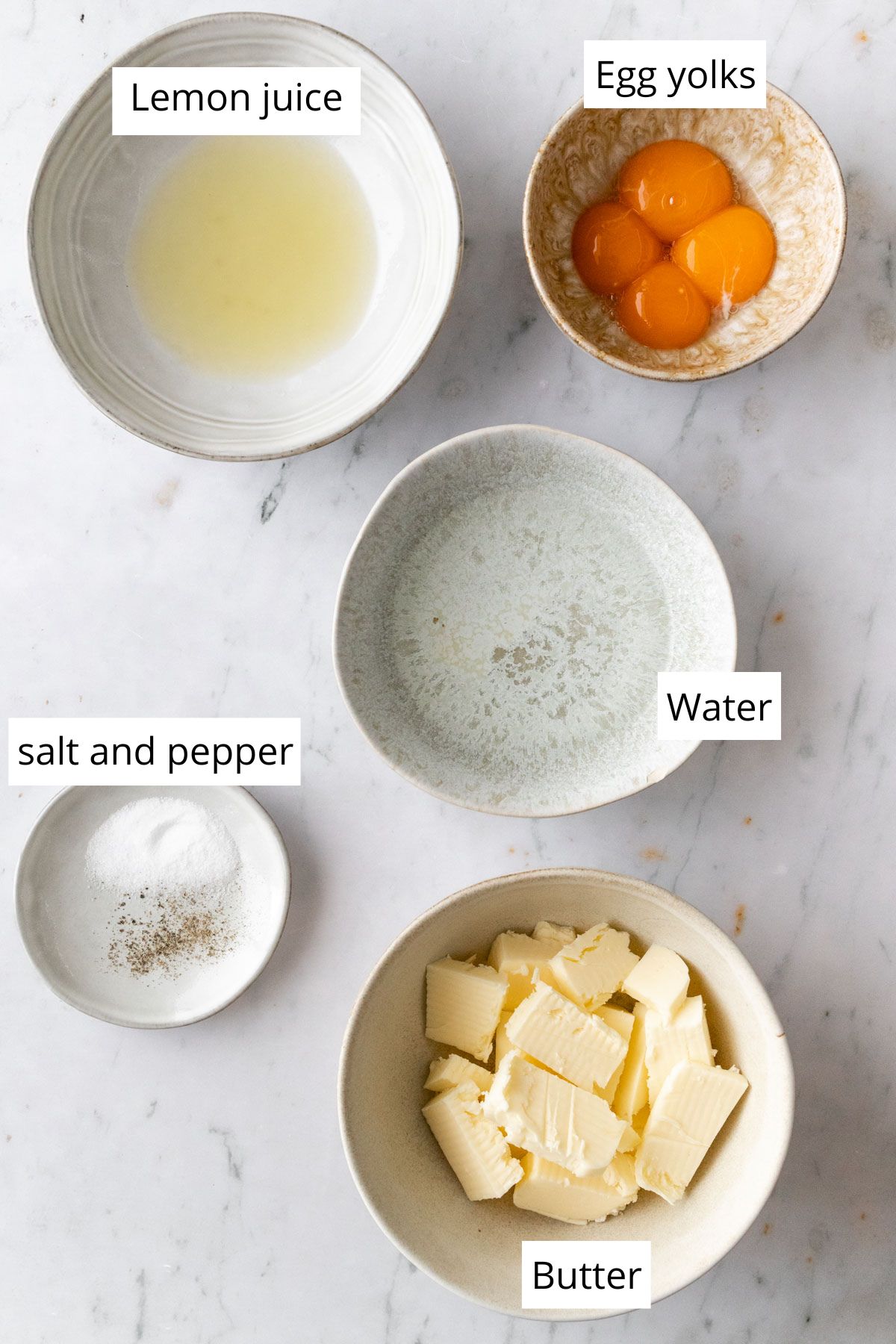 Egg yolks: The star ingredient of the sauce, egg yolks provide a rich and creamy base.
Water: A small amount of water helps to create the desired consistency.
Butter: Unsalted butter is melted and incorporated into the sauce, giving it its smooth and velvety texture.
Salt: A pinch of salt enhances the flavors and balances the richness of the sauce.
Black pepper: A sprinkle of black pepper adds a subtle kick and complements the other flavors in the sauce.
Lemon juice: The tangy and bright flavor of fresh lemon juice brings a refreshing element to the Hollandaise sauce.
See the recipe card below for exact measurements.
Instructions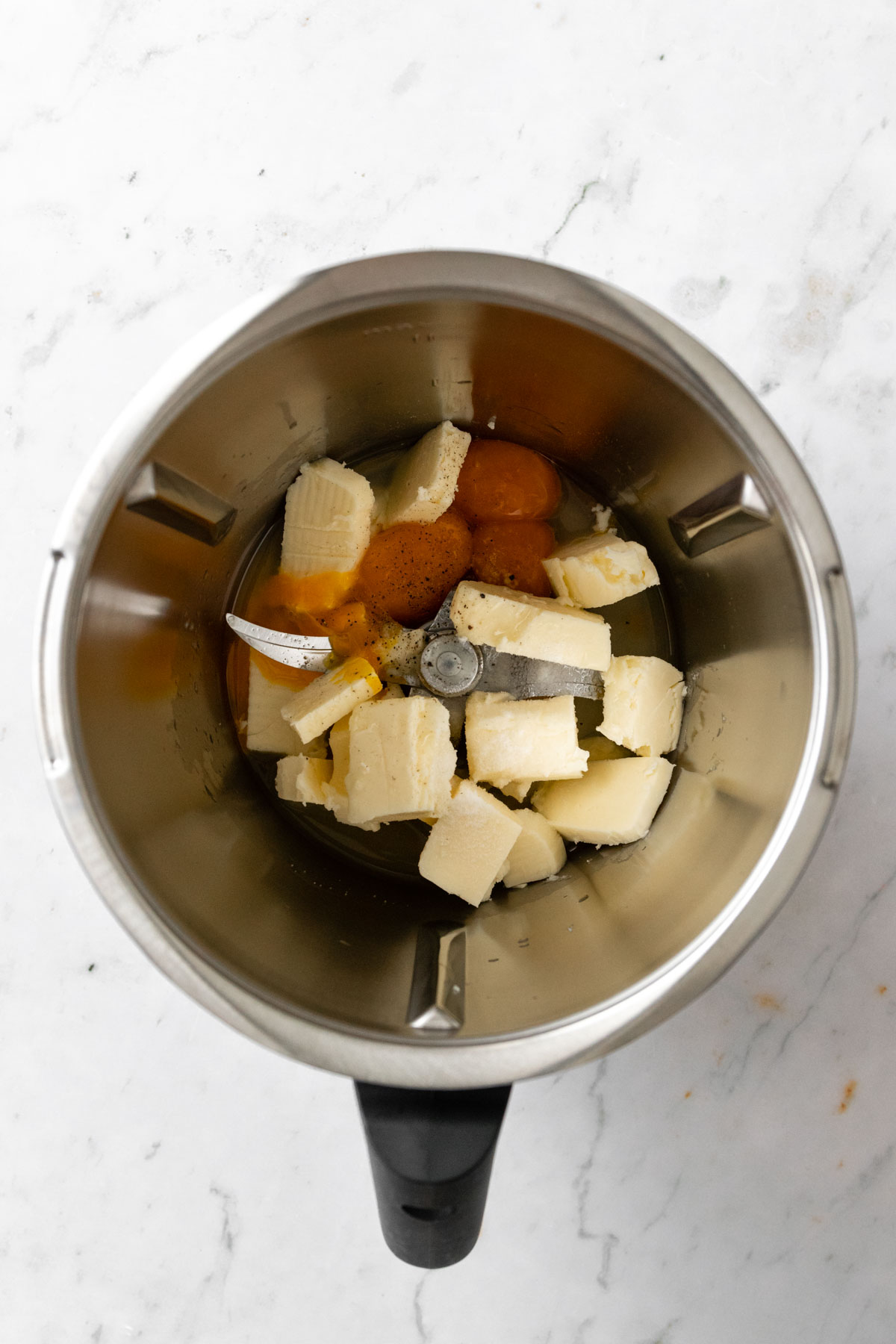 Add all the ingredients to the Thermomix mixing bowl.
Program your Thermomix.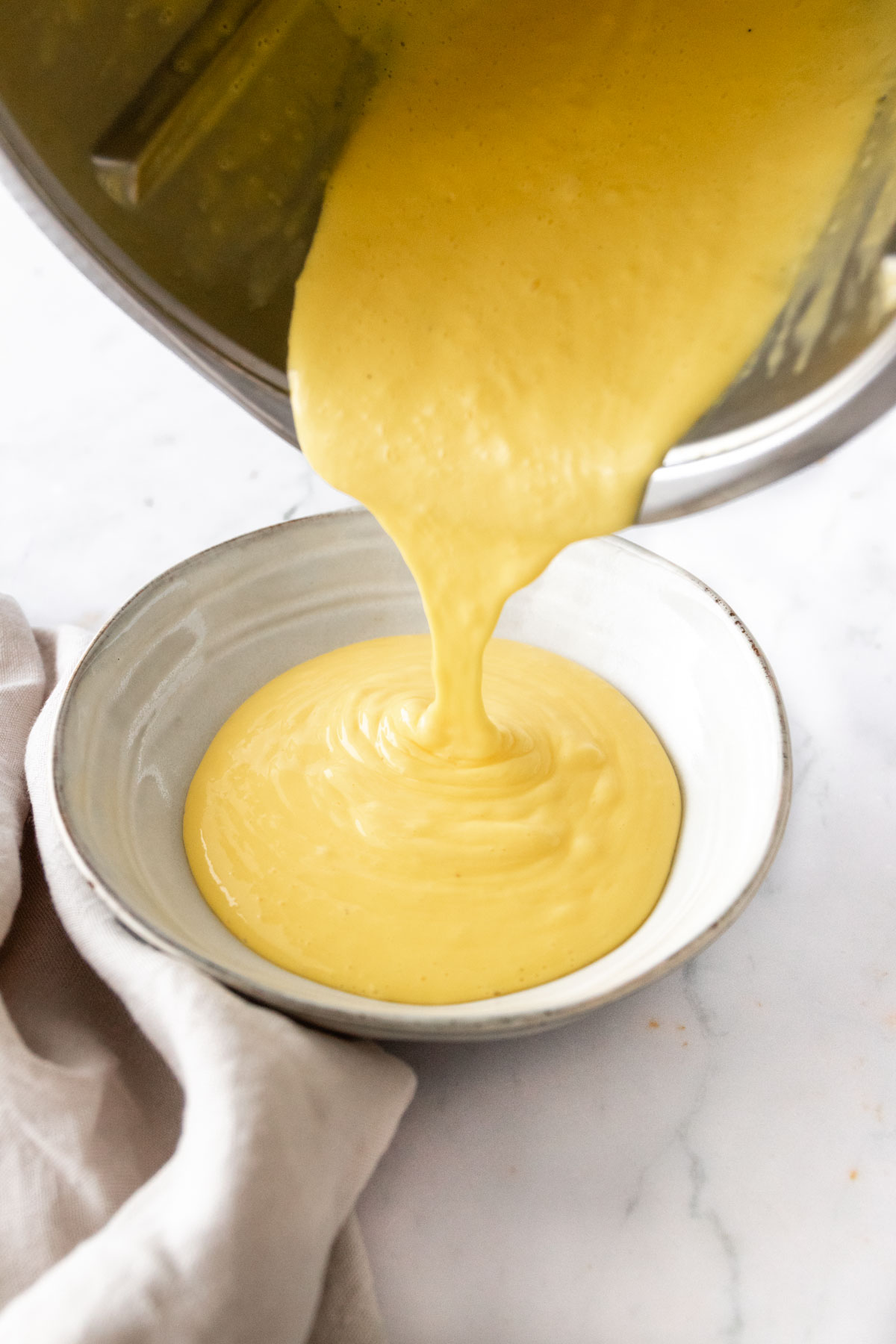 Pour over a jug or a bowl.
Serve!
Variations and Substitutions
Herb-infused: Add freshness and flavor by incorporating chopped herbs like chives or dill into the sauce. Simply mix them in after the sauce is prepared for an aromatic twist.
Spicy Twist: For those who enjoy some heat, add a pinch of cayenne pepper or a dash of hot sauce to give your Hollandaise sauce a spicy kick. Adjust the amount to suit your taste preferences.
Flavorful additions: Customize your Hollandaise sauce by adding other ingredients like minced garlic or finely grated Parmesan cheese.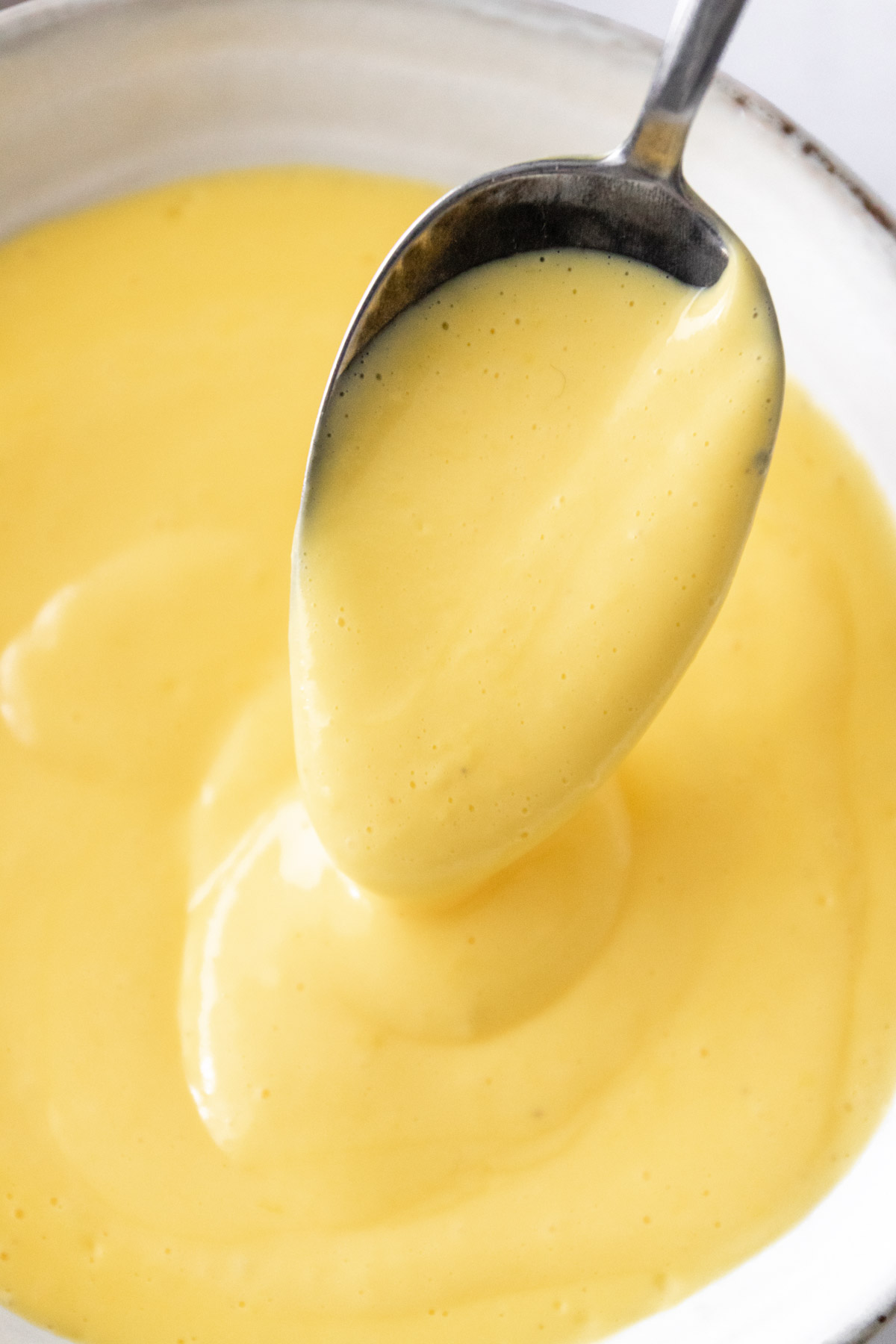 Serving suggestions
Classic eggs benedict: Serve the Hollandaise sauce over perfectly poached eggs. This iconic combination is a brunch favorite that never fails to impress.
Grilled asparagus: Drizzle the Hollandaise sauce over tender, grilled asparagus spears for a simple yet elegant side dish.
Roasted vegetables: Elevate the flavors of roasted vegetables by generously spooning the Hollandaise sauce over them.
Fish and seafood: Use the Hollandaise sauce as a decadent topping for grilled fish, such as salmon. The creamy texture and tangy flavor will beautifully complement the delicate seafood.
Expert tips
Adjusting thickness: If you prefer a thinner sauce, you can add a little warm water, one tablespoon at a time, to achieve the desired consistency. Alternatively, if you want a thicker sauce, simply reduce the amount of water added to the recipe.
Seasoning balance: Taste the sauce before serving and adjust the seasoning as needed. Add more salt, black pepper, or lemon juice to achieve the perfect balance of flavors that suits your palate.
Immediate consumption: For the best taste and texture, serve the Hollandaise sauce immediately after preparation. However, if you need to hold it for a short period, place it in a thermos or a heatproof bowl over warm water to keep it warm and prevent it from cooling too quickly.
Storage
Transfer the leftover Hollandaise sauce to an airtight container and store it in the refrigerator for up to 2-3 days.
Top tip
To reheat the sauce, use gentle heat to avoid curdling. The best method is to place the container in a pan of hot water and stir the sauce slowly until it reaches the desired temperature. Avoid direct heat, as it can cause the sauce to separate.
FAQ
Can I make the Hollandaise sauce ahead of time?
While it is best to enjoy the Hollandaise sauce immediately after preparation, you can make it ahead of time and store it in the refrigerator for a short period, up to 2-3 days. Just keep in mind that the sauce may thicken slightly when refrigerated and will need gentle reheating to restore its desired consistency.
Can I freeze the Thermomix Hollandaise sauce?
It is not recommended to freeze the Hollandaise sauce, as it can lead to changes in texture and separation when reheated. It is best to enjoy the sauce freshly made or store it in the refrigerator for a short period.
If you tried this recipe, don't forget to tag me on Instagram, Pinterest, or Facebook. Also, if you enjoyed this recipe, please leave a comment and a rating star below! Thank you for your support!
Related
Recommended
📖 Recipe
Thermomix Hollandaise Sauce
This Thermomix Hollandaise sauce is a creamy and tangy delight that adds elegance to any dish. Effortlessly pour it over poached eggs or roasted vegetables for a gourmet touch.
Print
Pin
Rate
Ingredients
4

egg yolks

at room temperature

50

g

water

at room temperature

130

g

unsalted butter

at room temperature

10

g

lemon juice

(juice of ½ lemon)

½

tsp

salt

1

pinch

black pepper
Instructions
Add all the ingredients to the Thermomix mixing bowl and mix 4 min/70ºC/speed 4. Serve!
Notes
Ensure all ingredients, especially the butter, are at room temperature before starting for optimal emulsification.

Serve the Hollandaise sauce immediately after preparation for the best taste and texture.

If storing leftovers, refrigerate in an airtight container and gently reheat using a warm water bath to prevent curdling.
Nutrition information is a rough estimate calculated with an online calculator. The information shown should not be considered a substitute for personal nutritional advice. 
Nutrition
Serving:
1
jug
|
Calories:
1166
kcal
|
Carbohydrates:
3
g
|
Protein:
13
g
|
Fat:
125
g
|
Saturated Fat:
74
g
|
Polyunsaturated Fat:
7
g
|
Monounsaturated Fat:
36
g
|
Trans Fat:
4
g
|
Cholesterol:
1057
mg
|
Sodium:
1214
mg
|
Potassium:
122
mg
|
Fiber:
0.1
g
|
Sugar:
1
g
|
Vitamin A:
4288
IU
|
Vitamin C:
4
mg
|
Calcium:
127
mg
|
Iron:
2
mg
Food safety
Cook to a minimum temperature of 165 °F (74 °C)
Do not use the same utensils on cooked food, that previously touched raw meat
Wash hands after touching raw meat
Don't leave food sitting out at room temperature for extended periods
Never leave cooking food unattended
Use oils with high smoking point to avoid harmful compounds
Always have good ventilation when using a gas stove