These Thermomix blueberry muffins are soft, moist, easy to make, and so delicious! Using your trusty Thermomix, you can effortlessly whip up these tender muffins bursting with juicy blueberries.
Whether you're an experienced baker or a novice, this recipe simplifies the process for a satisfying outcome. Let's gather the ingredients and embark on a delightful baking adventure that fills your home with the aroma of freshly baked blueberry muffins. Get ready to savor each delightful bite!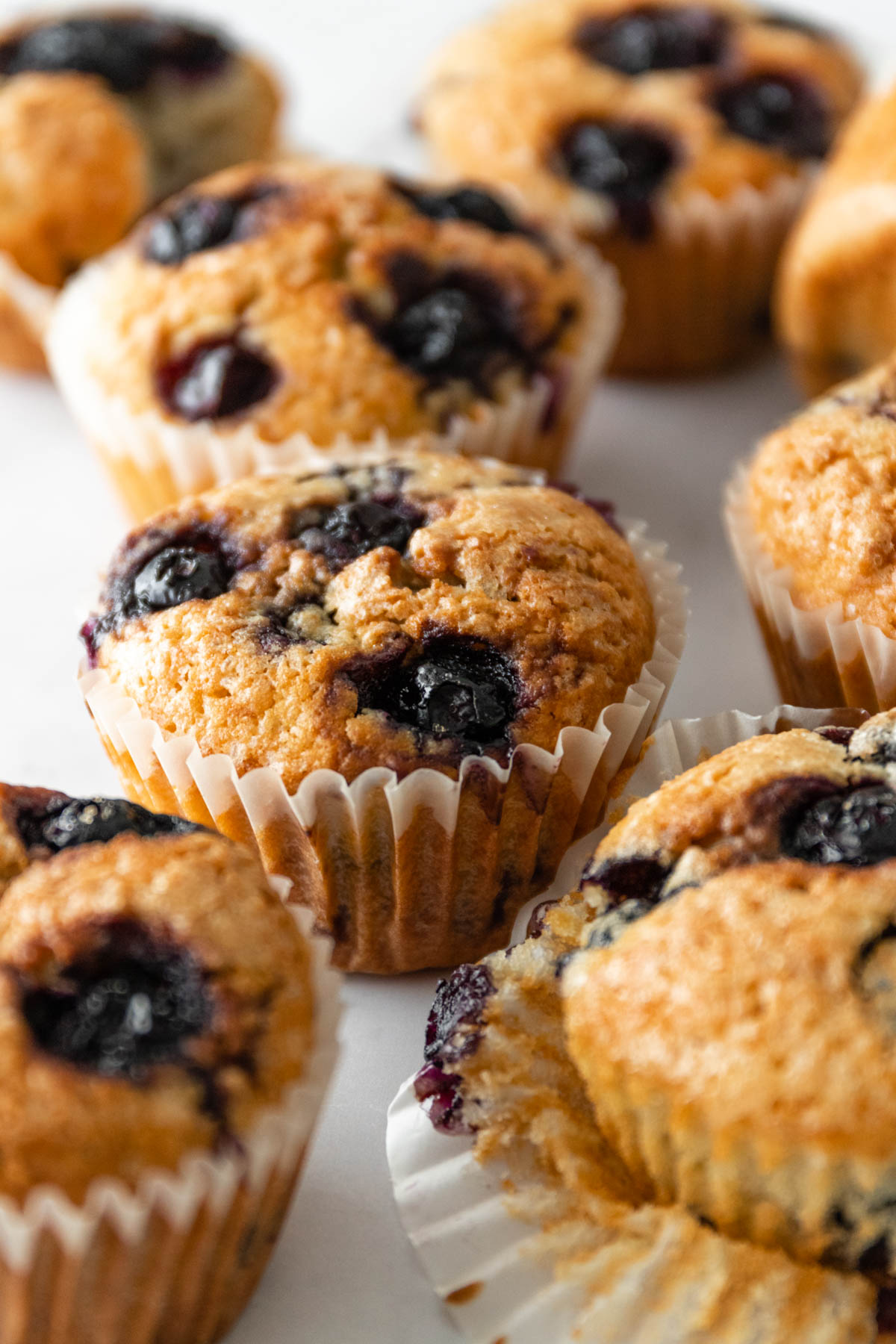 If you're a fan of baking goods, try our pumpkin chocolate chip muffins, chocolate chip cookies, or our delicious marble cake!
Jump to:
Why you will love this recipe
Quick and easy: Thanks to the efficiency of the Thermomix, this recipe comes together effortlessly. Say goodbye to laborious mixing and beating; your Thermomix will handle the hard work while you enjoy the process.
Fluffy and moist texture: The combination of all-purpose flour, baking powder, and butter results in a light and airy, divine texture. These Thermomix blueberry muffins are guaranteed to be moist, ensuring every bite is a delectable pleasure.
Bursting with blueberries: The star of these muffins is undoubtedly the juicy blueberries. They add a burst of natural sweetness and a delightful tang, complementing the tender crumb perfectly.
Customizable: Feel free to personalize your muffins by adding optional toppings like demerara sugar or a streusel crumb. These variations will enhance both the flavor and presentation of your muffins.
Ingredients
All-purpose flour: Provides the base for the muffins, giving them structure and a tender crumb.
Baking powder: Adds leavening agents to help the muffins rise and become light and fluffy.
Salt: Enhances the overall flavor and balances the sweetness.
Unsalted butter: Adds richness and moisture to the muffins.
Sugar: Provides sweetness and contributes to the muffins' texture.
Eggs: At room temperature.
Vanilla extract: Infuses a delightfully aromatic flavor into the muffins.
Milk: Adds moisture and helps achieve a tender texture.
Blueberries: Brings bursts of tangy sweetness and vibrant color to the muffins. You can use fresh or frozen.
Demerara sugar: Adds a touch of caramelized crunch and sweetness to the muffin tops.
See the Thermomix blueberry muffins recipe card below for exact measurements.
Instructions
Add the butter and sugar, and mix.
Mix the rest of the ingredients.
Add the blueberries.
Pour the batter into the muffin tins. Add blueberries on top and sprinkle with demerara sugar.
Variantions and Substitutions
Mixed berry muffins: Feel free to experiment with different types of berries, such as raspberries, blackberries, or strawberries. You can either replace the blueberries entirely or mix them with other berries to create a delightful medley of flavors.
Lemon blueberry muffins: Add a zesty twist to your muffins by incorporating the zest of a lemon into the batter. The citrusy flavor pairs beautifully with the sweet blueberries.
Streusel Topping: For extra texture and flavor, sprinkle a streusel topping over the muffins before baking. Simply mix flour, sugar, and cold butter until crumbly, and spread it over the muffin batter.
Nutty Delights: Add a satisfying crunch to your muffins by including chopped nuts like walnuts or almonds in the batter. They will add a lovely contrast to the soft texture of the muffins.
Expert Tips
Use frozen blueberries: If fresh blueberries are not available, you can use frozen blueberries instead. Add them directly to the batter without over mixing, preventing them from bleeding too much color into the muffins.
Toss blueberries in flour: Before adding the blueberries to the batter, lightly coat them in a bit of flour. This will help prevent them from sinking to the bottom of the muffins while baking, ensuring an even distribution throughout.
Grease or line the muffin tin: To ensure easy removal of the muffins, either grease the muffin tin with butter or cooking spray or use paper liners. This will prevent the muffins from sticking to the pan.
Storage
Store any leftover muffins in an airtight container at room temperature for up to 2-3 days.
Top tip
Allow muffins to cool: Once baked, let the muffins cool in the pan for a few minutes before transferring them to a wire rack. This helps them set and prevents them from breaking apart when removed from the pan.
FAQ
Can I use frozen blueberries instead of fresh ones?
Absolutely! Frozen blueberries work well in this recipe. Simply use them directly from the freezer to prevent excess moisture from affecting the muffin batter. Toss them in a bit of flour before adding to the batter to help prevent them from sinking to the bottom.
Can I double the recipe?
Yes, you can double the recipe to make more muffins. Remember that the baking time may need to be adjusted slightly, as larger batches may take a bit longer to bake. Ensure all ingredients are proportionally doubled for consistent results.
If you tried this recipe, don't forget to tag us on Instagram, Pinterest, or Facebook. Also, if you enjoyed this recipe, please leave a comment and a rating star below! Thank you for your support!
Related
Recommended
📖 Recipe
Thermomix Blueberry Muffins
These Thermomix blueberry muffins are moist, tender, and bursting with juicy blueberries. They're easy and delicious. Perfect for breakfast or a sweet treat. Enjoy!
Print
Pin
Rate
Ingredients
300

g

all-purpose flour

2

teaspoon

baking powder

120

g

unsalted butter

at room temperature

140

g

white sugar

2

eggs

at room temperature

1

teaspoon

vanilla extract

1

pinch

salt

320

g

milk

,at room temperature

250

g

frozen blueberries

2

tablespoon

demerara sugar to sprinkle on top

(optional)
Instructions
Preheat the oven to 350 degrees F (180 C), line a muffin tin with muffin liners, and set it aside.

Add the butter and sugar to the Thermomix mixing bowl, and mix 1 minute/speed 3.

Then, add the egg and beat again 1 minute/speed 3.

Add the salt, vanilla extract, and milk, and mix 1 minute/speed 3,5.

Add the flour, and baking powder, and mix 1 minute/speed 2.

Next, add the blueberries to the batter and gently mix with the help of a spatula.

Pour the batter into the muffin tins, filling them for about ¾ of the way full, add more blueberries on top, and sprinkle with demerara sugar. Bake for about 20 minutes or until a toothpick comes out clean.
Notes
Sprinkle Demerara sugar on top for a delightful caramelized crunch.

Enjoy these muffins warm or at room temperature for the best taste.

Store leftovers in an airtight container to keep them fresh.
Nutrition information is a rough estimate calculated with an online calculator. The information shown should not be considered a substitute for personal nutritional advice. In this recipe, sunflower oil was considered for the calculation.
Nutrition
Serving:
1
muffin
|
Calories:
219
kcal
|
Carbohydrates:
32
g
|
Protein:
4
g
|
Fat:
9
g
|
Saturated Fat:
5
g
|
Polyunsaturated Fat:
1
g
|
Monounsaturated Fat:
2
g
|
Trans Fat:
0.3
g
|
Cholesterol:
45
mg
|
Sodium:
83
mg
|
Potassium:
83
mg
|
Fiber:
1
g
|
Sugar:
15
g
|
Vitamin A:
295
IU
|
Vitamin C:
2
mg
|
Calcium:
72
mg
|
Iron:
1
mg
Food safety
Cook to a minimum temperature of 165 °F (74 °C)
Do not use the same utensils on cooked food, that previously touched raw meat
Wash hands after touching raw meat
Don't leave food sitting out at room temperature for extended periods
Never leave cooking food unattended
Use oils with high smoking point to avoid harmful compounds
Always have good ventilation when using a gas stove