This Thermomix lemon curd recipe is so quick and easy to prepare! Spread it generously over a stack of fluffy pancakes for a delightful breakfast treat that will brighten your mornings.
Bursting with vibrant lemon flavor and a velvety smooth texture, this homemade curd delight will become your favorite.
This Thermomix lemon curd is incredibly versatile and can be used in various delicious ways. Spread it over pancakes for a tangy twist to your breakfast, or add it between cake layers for a burst of citrusy goodness.
Drizzle it over waffles, swirl it into yogurt, or use it as a filling for pastries. The options are endless. This lemon curd will elevate your dishes and add a delightful twist to your favorite treats. Get ready to explore the many tasty possibilities with this Thermomix lemon curd.
You can add this delicious lemon curd over our fluffy Thermomix pancakes, Dutch baby pancake, or these delicious Thermomix crepes.
Jump to:
Why you will love this recipe
Bursting with freshness: This homemade lemon curd offers a fantastic burst of fresh, tangy lemon flavor that will awaken your taste buds and leave you craving more.
Easy preparation: Thanks to the Thermomix, preparing this lemon curd becomes a breeze. With its precise temperature control and efficient blending capabilities, you can achieve a silky-smooth texture without the traditional stovetop methods.
Versatile delight: Whether you're looking to enhance your breakfast pancakes, add a zesty layer to a cake, or create a tangy twist in various desserts, this curd is a fantastic companion.
Ingredients
Sugar: The sweetener in this recipe, sugar adds a pleasant sweetness that balances the tartness of the lemons.
Lemon juice: Freshly squeezed lemon juice is the star ingredient that provides the bold, tangy flavor and acidity essential for delicious lemon curd.
Lemon zest: The yellow outer layer of the lemon peel, lemon zest adds an intense citrus aroma and enhances the lemony flavor of the curd.
Butter: Unsalted butter adds richness, smoothness, and a creamy texture to the lemon curd, making it luxurious and indulgent.
Eggs: Eggs act as a thickening agent and provide structure to the curd. They help achieve a smooth, custard-like consistency while adding richness to the overall flavor.
See the recipe card below for exact measurements.
Instructions
Add the sugar to the Thermomix bowl and pulverize.
Next, add the lemon zest and grate.
Add the butter and lemon juice, and mix. Then add the eggs and mix again.
Store in sterilized jars and refrigerate.
Serving suggestions
For Breakfast:
Spread the lemon curd over toast, bagels, or English muffins for a delightful morning treat.
Swirl it into Greek yogurt or oatmeal for a burst of citrusy goodness.
Top your pancakes, waffles, or crepes with a generous dollop of lemon curd for a tangy twist.
In Baking:
Use it as a filling between cake layers to add a zesty, creamy element.
Incorporate it into tarts, pies, or tartlets as a tangy and flavorful filling.
Drizzle it over freshly baked scones or biscuits for an indulgent touch.
As a Dessert Topping:
Spoon the lemon curd over vanilla ice cream or frozen yogurt for a refreshing and tangy dessert.
Use it as a topping for cheesecake or pavlova to add a vibrant citrus flavor.
Pair it with fresh berries or fruit salads to create a bright and luscious dessert.
Expert tips
Fresh lemons: For the best flavor, use fresh lemons and extract their juice and zest right before making the curd. This ensures a vibrant and authentic citrus taste.
Strain the juice: To avoid unwanted pulp or seeds in your lemon curd, strain the freshly squeezed lemon juice before adding it to the Thermomix.
Grate the zest carefully: When zesting the lemons, only grate the outer yellow layer of the peel, avoiding the bitter white pith underneath.
Softened butter: To achieve a smooth and creamy texture, ensure the butter is at room temperature before adding it to the Thermomix. This allows for easy blending and incorporation into the curd.
Storage
Store the Thermomix lemon curd in a sterilized airtight container in the refrigerator for up to 2 weeks or freeze for up to 2 months.
Top tip
To achieve a smoother texture, strain the lemon juice before adding it to the Thermomix lemon curd recipe to remove any pulp or seeds.
FAQ
Can I adjust the sweetness of the lemon curd?
Yes, you can adjust the sweetness of the lemon curd to suit your preference. If you prefer a sweeter curd, you can increase the amount of sugar slightly.
Can I double or halve the recipe?
Yes, you can easily double or halve the Thermomix lemon curd recipe. Simply adjust the ingredient quantities accordingly while maintaining the same ratio of ingredients.
Can I freeze the lemon curd?
Yes, you can freeze the lemon curd for longer storage. Place it in a freezer-safe container, leaving some space for expansion, and store it in the freezer for up to 2 months.
If you tried this recipe, don't forget to tag me on Instagram, Pinterest, or Facebook. Also, if you enjoyed this recipe, please leave a comment and a rating star below! Thank you for your support!
Related
Recommended
📖 Recipe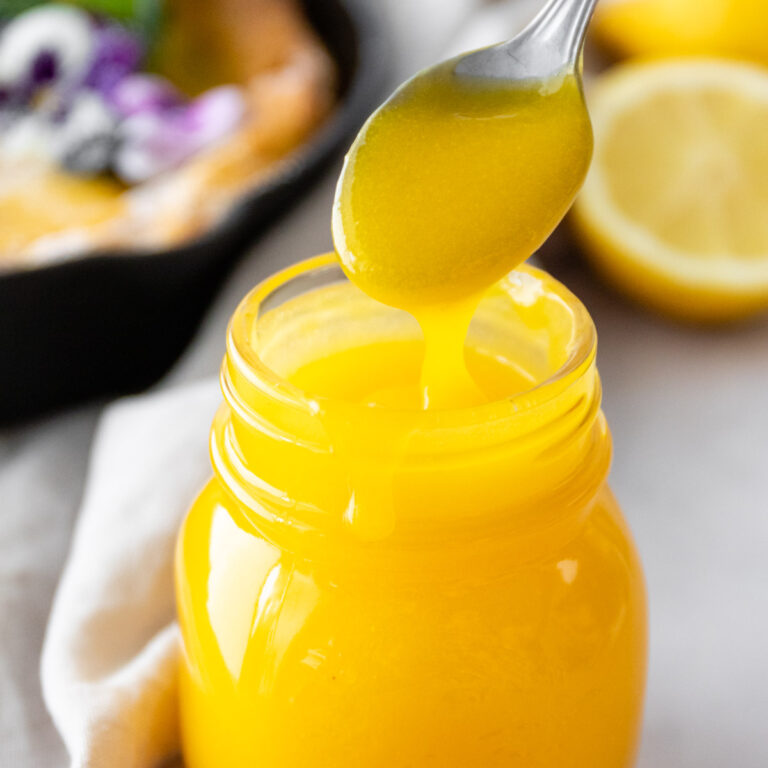 Thermomix Lemon Curd
Whip up a tangy and velvety Thermomix lemon curd using sugar, lemon juice, zest, butter, and eggs. Perfect for topping pancakes, cakes, and more, this homemade delight will elevate your desserts with its vibrant flavor. Get ready to indulge in every luscious spoonful!
Print
Pin
Rate
Ingredients
170

g

white sugar

15

g

lemon zest

(or zest from two lemons)

65

g

lemon juice

(or juice from two lemons)

70

g

unsalted butter

at room temperature

2

eggs

at room temperature
Instructions
Add the sugar to the Thermomix bowl and pulverize 25 sec/speed 9.

Add the lemon zest and grate 20 sec/speed 9.

Add the butter, and lemon juice and mix 1 minute/speed 2.

Add the eggs and mix 15 sec/speed 4.

Set your Thermomix to 7 min/ 80ºC/speed 2.

Store in sterilized jars and refrigerate.
Notes
For the freshest flavor, use freshly squeezed lemon juice and grate the zest from organic lemons.

Make sure the butter is softened at room temperature for easy blending into the curd.

Feel free to adjust the sweetness by adding more or less sugar to suit your taste preferences.
Nutrition information is a rough estimate calculated with an online calculator. The information shown should not be considered a substitute for personal nutritional advice.
Nutrition
Serving:
1
jar
|
Calories:
1304
kcal
|
Carbohydrates:
177
g
|
Protein:
12
g
|
Fat:
66
g
|
Saturated Fat:
39
g
|
Polyunsaturated Fat:
4
g
|
Monounsaturated Fat:
18
g
|
Trans Fat:
2
g
|
Cholesterol:
478
mg
|
Sodium:
136
mg
|
Potassium:
233
mg
|
Fiber:
2
g
|
Sugar:
172
g
|
Vitamin A:
2236
IU
|
Vitamin C:
45
mg
|
Calcium:
92
mg
|
Iron:
2
mg
Food safety
Cook to a minimum temperature of 165 °F (74 °C)
Do not use the same utensils on cooked food, that previously touched raw meat
Wash hands after touching raw meat
Don't leave food sitting out at room temperature for extended periods
Never leave cooking food unattended
Use oils with high smoking point to avoid harmful compounds
Always have good ventilation when using a gas stove