This Thermomix aioli recipe perfectly balances ease of preparation with an explosion of garlic flavor. Whether you're hosting a casual gathering or simply indulging in a batch of French fries, this homemade aioli is the ultimate dipping sauce that will leave your taste buds craving for more.
Aioli is a traditional Mediterranean sauce that originated in Provence, France. It is known for its creamy and tangy characteristics, typically made by combining garlic, egg yolks, oil, and lemon juice. Aioli combines a rich garlic flavor and a smooth, velvety texture. You can serve aioli as a versatile accompaniment to numerous dishes.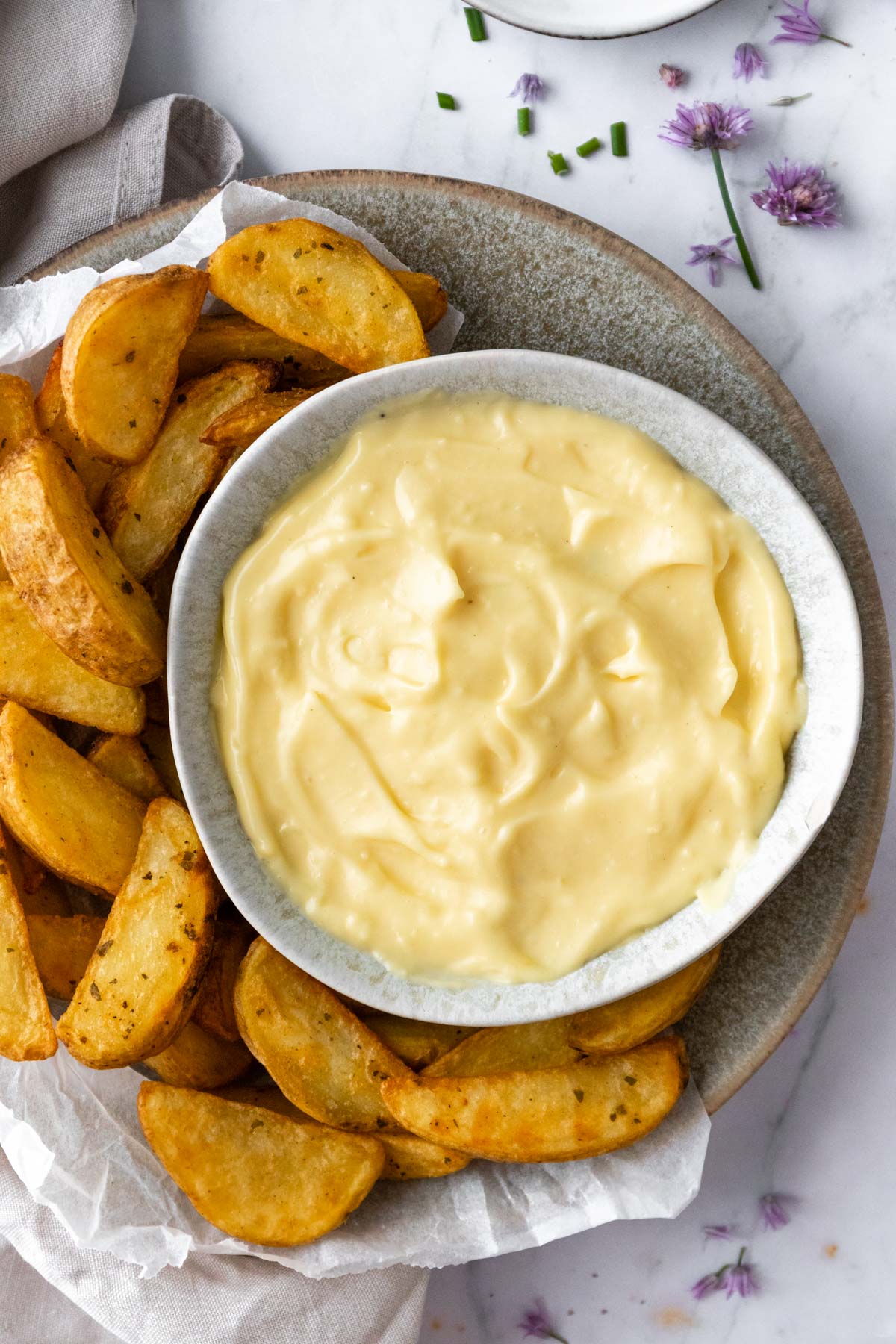 From its smooth texture to its robust garlic notes, this aioli recipe will become your go-to for various occasions.
Whether you're a garlic lover or want to elevate your meals, aioli is the way to go! From the crisp perfection of french fries to delicate seafood like shrimp, aioli effortlessly transforms ordinary dishes into extraordinary culinary experiences.
So, grab your loved Thermomix, and let's unlock the secrets behind this easy-to-make Thermomix aioli recipe!
If you're looking for more party dip recipes to make with the help of your Thermomix check out our delicious Thermomix guacamole or Thermomix hummus recipe.
Jump to:
Why you will love this recipe
Unique garlic flavor: If you're a garlic lover, this aioli recipe is made for you. It bursts with the robust and aromatic essence of garlic!
Creamy texture: This aioli has a velvety smooth texture that will melt in your mouth. It adds a luxurious touch to your favorite foods, turning them into an indulgent treat.
Versatile dip for french fries: French fries and aioli are a match made in culinary heaven. Whether enjoying a family dinner or hosting a party, this aioli will take your fries to a new level of deliciousness.
Quick and easy to make: One of the best parts of this recipe is how simple and effortless it is to prepare. With the help of your Thermomix, you can whip up this aioli in no time. No need to worry about complex techniques or too long preparations.
🥘 Ingredients
Garlic: The star of the show, garlic cloves bring their distinctive and pungent flavor to the aioli. They add a robust and aromatic kick, infusing the sauce with their irresistible essence.
Egg: This recipe calls for a whole egg instead of using egg yolks. The egg serves as the creamy base for the aioli, contributing to its rich texture and helping with the emulsification process.
Lemon Juice: Freshly squeezed lemon juice adds a tangy note to balance the richness of the aioli. It enhances the flavors and provides a refreshing twist to the sauce.
Oil: For this recipe, you can use either sunflower seed oil or light-flavored olive oil. These oils provide a neutral base for the aioli, allowing the flavors of the other ingredients to shine through. Choose the oil that best suits your taste preferences.
Salt: Season to taste! You can adjust to your liking, ensuring a customized and delicious aioli experience.
See the recipe card below for exact measurements.
Instructions
Add the garlic cloves to the thermomix and chop.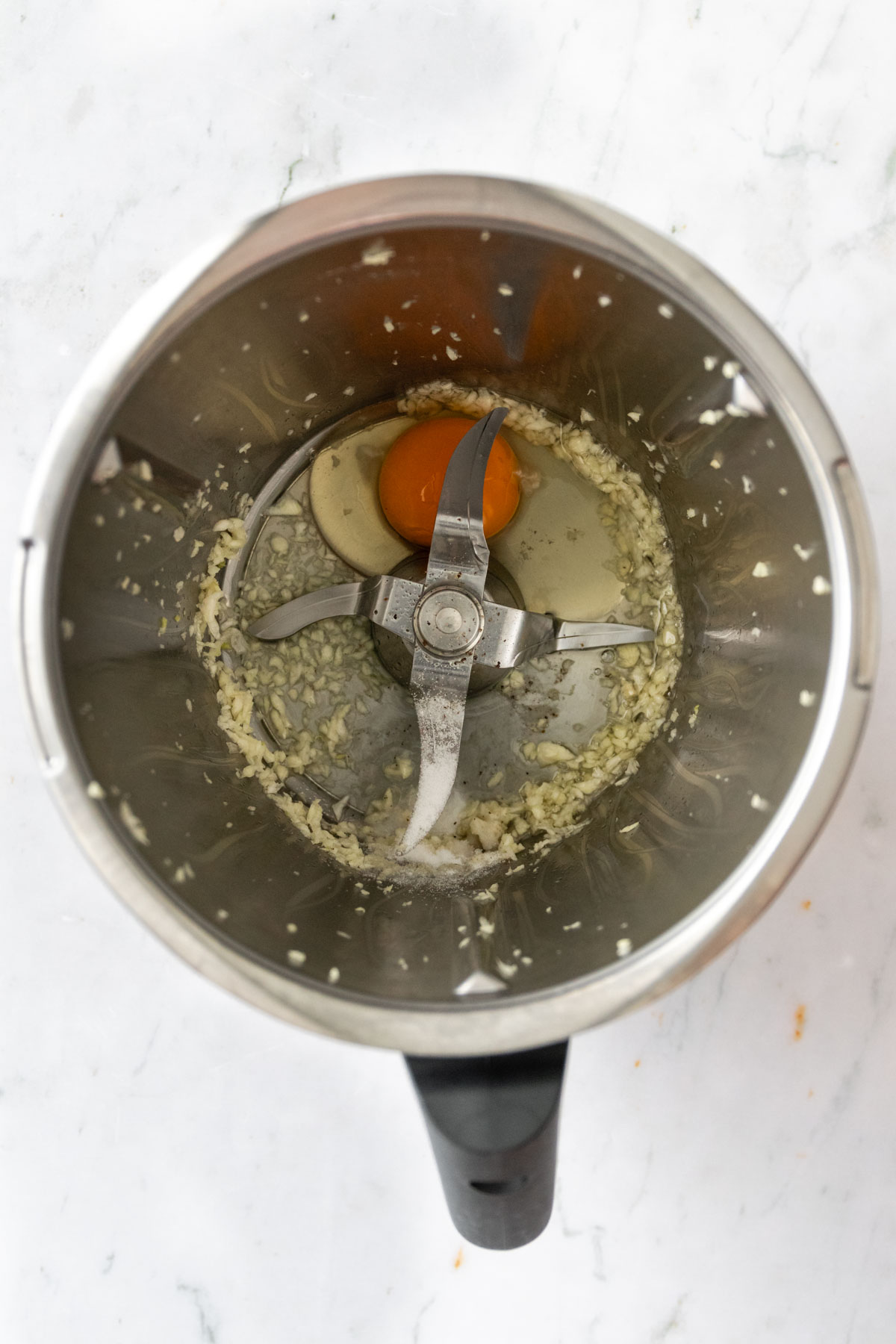 Add the egg, lemon juice, salt, and black pepper.
Slowly pour the oil through the lid of the Thermomix.
Serve as a dip!
See the recipe card below for exact instructions, time, and speed.
Variantions and substitutions
Roasted garlic: Substitute some of the raw garlic cloves with roasted garlic for an extra depth of flavor.
Fresh herbs: Add freshness by incorporating finely chopped herbs such as basil, parsley, or chives.
Lime zest: Garnish with lime zest for a zesty and citrusy Thermomix aioli. The bright notes of lime will lend a refreshing touch to your sauce, making it a perfect complement to seafood dishes.
Expert tips
Use fresh ingredients: To achieve the best flavor in your aioli, opt for fresh garlic cloves, high-quality oil, and freshly squeezed lemon juice. Using fresh ingredients will ensure a vibrant and robust taste.
Let the egg reach room temperature: Allow the egg to come to room temperature before using it. This will help with emulsification, resulting in smoother and more stable aioli.
Gradually add the oil: When adding the oil to the aioli, do so slowly and steadily. This gradual incorporation allows for better emulsification and helps prevent the sauce from breaking.
Storage
To store your Thermomix aioli, transfer it to an airtight container and refrigerate it for up to 3 days.
Top tip
When adding the oil to your aioli, start with just a few drops at a time. Once the initial few drops are fully incorporated, you can gradually increase the oil flow. This technique helps achieve a creamy and luxurious texture, resulting in a flawless aioli every time.
If you tried this recipe, don't forget to tag me on Instagram, Pinterest, or Facebook. Also, if you enjoyed this recipe, please leave a comment and a rating star below! Thank you for your support!
Related
Recommended
📖 Recipe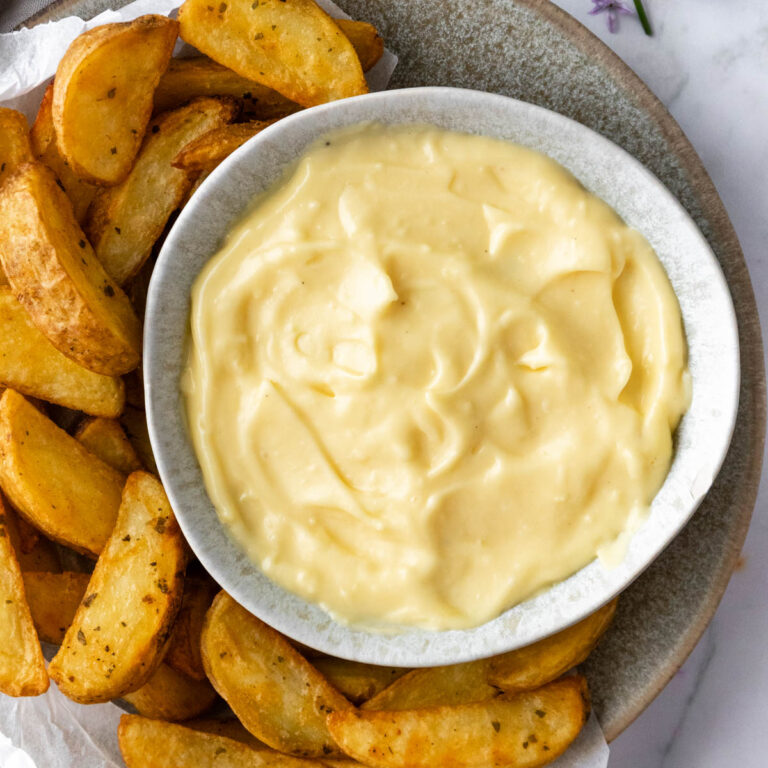 Thermomix Aioli
Enjoy the rich flavors of Thermomix aioli with this simple and delicious recipe. Elevate your meals with the creamy and garlicky goodness of homemade aioli, perfect for dipping fries or adding a delightful touch to your favorite seafood dishes.
Print
Pin
Rate
Ingredients
230

g

sunflower oil or light olive oil

2

garlic cloves

1

egg

1

teaspoon

lemon juice

1

pinch

black pepper

½

tsp

salt
Instructions
Place a container on the Thermomix, weigh the oil, and set aside.

Add the garlic to the Thermomix bowl and chop for 5 sec/speed 8. Scrape down the garlic from the bowl's sides with a spatula.

Add the egg, lemon juice, salt, and black pepper and set your Thermomix to 40 degrees/ 4 minutes/ speed 4.

After 20 seconds, slowly pour the oil into the lid of the Thermomix.

Transfer to a bowl and serve!
Notes
Store in the refrigerator for up to 3 days in an airtight container.
Use room temperature ingredients for best results.
Nutrition information is a rough estimate calculated with an online calculator. The information shown should not be considered a substitute for personal nutritional advice. In this recipe, sunflower oil was considered for the calculation.
Nutrition
Serving:
1
jar
|
Calories:
2106
kcal
|
Carbohydrates:
3
g
|
Protein:
6
g
|
Fat:
234
g
|
Saturated Fat:
24
g
|
Polyunsaturated Fat:
10
g
|
Monounsaturated Fat:
194
g
|
Trans Fat:
0.02
g
|
Cholesterol:
164
mg
|
Sodium:
1226
mg
|
Potassium:
92
mg
|
Fiber:
0.2
g
|
Sugar:
0.3
g
|
Vitamin A:
239
IU
|
Vitamin C:
4
mg
|
Calcium:
37
mg
|
Iron:
1
mg
Food safety
Cook to a minimum temperature of 165 °F (74 °C)
Do not use the same utensils on cooked food, that previously touched raw meat
Wash hands after touching raw meat
Don't leave food sitting out at room temperature for extended periods
Never leave cooking food unattended
Use oils with high smoking point to avoid harmful compounds
Always have good ventilation when using a gas stove